USC Point Guard Jordan McLaughlin
Jordan McLaughlin who hails from the 909 is a point guard with the USC Trojans Basketball Team. He was a top recruit going into USC and was named to the Pac-12 All-Freshman team. McLaughlin became a co-captain his sophomore year and was named a Pac-12 Conference honorable mention. Last summer he played for the Pac-12 All-Star team that went to Australia.
This 2016-2017 season is his junior year. In January, 2017 he joined the 1,000 point scoring club becoming only the 37th Trojan to do so.
Life as a collegiate athlete is busy but rewarding and McLaughlin is enjoying every minute of it.
"USC has been great!," said McLaughlin. "I am glad that I made the decision to come here and I have no regrets what so ever. I have connected well with many people here and set myself up for life after basketball."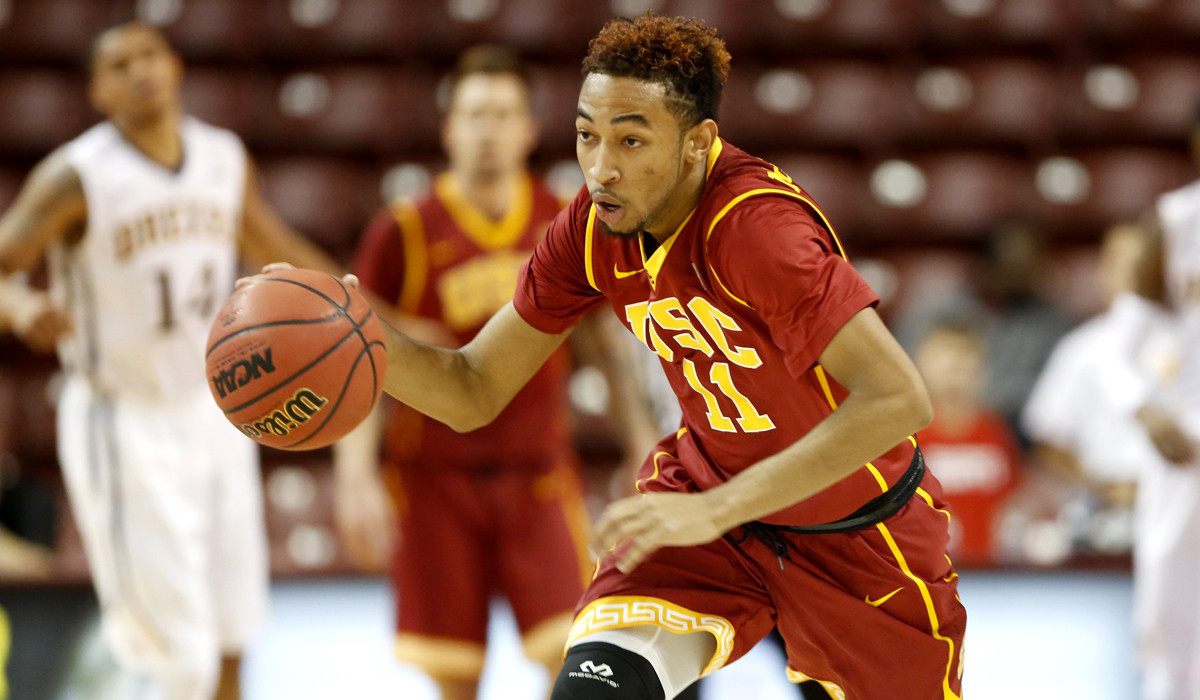 The Trojan's season started in November, 2016 and the daily schedule for McLaughlin is very busy during their season. McLaughlin said he has classes from 8 a.m. to 11 a.m. and then he naps until 12:30 p.m. Then it's off to weightlifting and basketball practice from 1:45 p.m. to 4:30ish.
While competing at the highest level of collegiate basketball, he is still busy in the classroom too and is still enjoying the college experience.
"Classes are very interesting and challenging but I am provided with tutors to help me learn the materials. Life on campus is fun; you're able to connect and interact with other students from the school and gain the college experience."
When Jordan's not playing basketball or studying, his favorite thing to do is to just relax and take in the sun on campus at the Tutor Campus Center. He said the plus about going to a college in California is that he gets to enjoy its good weather and just relax on campus.
Just a few years back he was attending Etiwanda High School. Although he loves USC, he still remembers his high school days with high regard.
"Yeah USC is great but I do miss Etiwanda. I miss all the people that came with Etiwanda. My high school coaches the most and then my friends and also the teachers at Etiwanda. A lot of the coaches and the teachers from Etiwanda still cheer me on. I liked the basketball culture about the school. The support the team gets is phenomenal; the games are always fun to be a part of because the crowd gets hyped. Coach Kleckner and his coaching staff are unbelievable. They don't only teach you the game of basketball, but he teaches you how to become a better man and a better person," said McLaughlin.
When asked if he still like to go to his hometown he replied with every chance he gets. When they are not in season he goes almost every weekend. Now that they are in season though, it is a little bit harder for him to get back out there.
 When McLaughlin does get to go back to Rancho Cucamonga, he likes going to the malls like the Ontario Mills and Victoria Gardens, catch a movie, hang with high school friends and also just spend time with his family. McLaughlin really likes the community feeling from his hometown.
"I love how everyone in the community stays around each other and stays connected with each other. Everyone from the Inland Empire (IE) supports and roots for everyone that represents the IE. When I go back I love to visit all my schools and my teachers. From Elementary (Solorio) – middle school (Heritage Intermediate)- to high school (Etiwanda)," said McLaughlin.
At Etiwanda High School, McLaughlin played varsity basketball since he was a freshman and was a four-star recruit by the time he was a senior.
This April, McLaughlin turns 21 years old. On the court McLaughlin can be seen wearing the No. 11 jersey for USC. He feels blessed that USC was able to take the No. 11 jersey out of retirement to allow him to wear as this was his number since being a freshman in high school. This No.11 was also the number of Bill Sharman who was a Boston Celtics NBA Hall of Famer and also coached the Los Angeles Lakers to their first NBA Championship in 1972. He agreed to un-retire the number for McLaughlin to wear.
After USC, McLaughlin would like to play in the NBA and then be a college coach. He is majoring in sociology with a minor in communications.
McLaughlin's favorite movie is Space Jam, a movie that was released the year he was born. He lists Michael Jordan as his sports hero. Jordan McLaughlin's nickname is "J-Mac." His parents are Thomas and Lisa McLaughlin and his siblings are Amber, Whitney and Dominique. He is a fan of the Chicago Bulls.
McLaughlin and the USC Trojans will give it their all as their season begins to culminate. The last scheduled game of the season for the USC men's basketball team is on March 3 at the Galen Center against Washington. After that it is the Pac-12 Tournament and the college basketball playoffs, otherwise known as March Madness. We are lucky to have an All-Star like Jordan McLaughlin from our neighborhood. He is truly one of our rising stars!