We Visit My Delight Cupcakery
What is it that makes a cupcake so sweet? The simplest answer would be the sugar, the sweet little reward for ourselves, that brings a smile to everyone's face. Others might say the thoughtfulness that goes into remembering a special day and sharing memories over a delicious treat.
The people of Ontario and its neighboring communities will say that what makes a cupcake so sweet, is the lovely mother and daughter duo at My Delight
Cupcakery. Their dedication and love for their community has a fan following which has grown around them.
There are dozens, if not hundreds of bakeries in and around the city of Ontario, but not many of them focus on just cupcakes, and none of them are anything like My Delight Cupcakery.
Founded in 2009 by Mother and Daughter team Melinda and Naomi Moreno, My Delight Cupcakery has quickly become a staple of celebration and indulgence to the community around it. I had the lucky opportunity to stop by and speak with the wonderful team behind the scenes and get to know what makes My Delight Cupcakery so unique.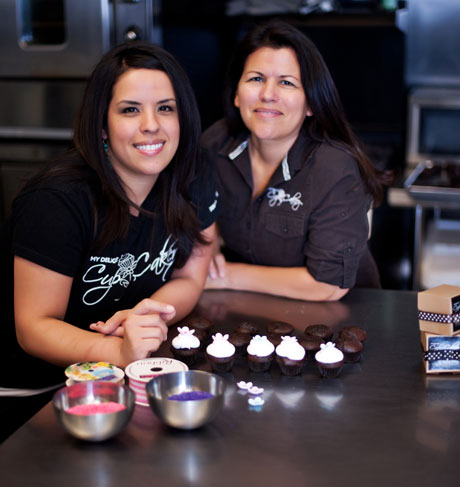 From the moment you step into their soon to expand lobby you find yourself drifted away into a sweets lover's dream. The counter is filled with a beautiful display of unique artisan cupcakes that will have your mouth watering from the start. Local favorites are the breakfast cupcake, made with sweet buttermilk batter, topped with iced maple frosting, crisp bacon and drizzled with real maple syrup. This is sure to start any day with a smile. You could also try the seasonal favorites such as blueberry coffee cake, chocolate caramel truffle and the classic chocolate or carrot cake with the other staples at the confection counter.
Whatever you try at My Delight Cupcakery, you're going to be in for a treat. Naomi graduated from Le Cordon Bleu College of Culinary Arts as a pastry chef, but her mother Melinda recalls Naomi's love of baking
confections as far back as she can remember, and their staff create a delightful shopping experience and immediately makes you feel like a member of their family, be it at their bakery counter or one of their mobile food trucks that have been catering cupcakes to local and large events, from The Grammy's or the E3 Expo since 2011.
My Delight Cupcakery is located at 
1520 N. Mountain Ave. Suite B-108
 Ontario, California 91762